A Friend's Guide to Chamber Music is written for enthusiastic listeners and performers of chamber music as well as new listeners exploring this unique form. In non-technical language the Guide surveys 175 works for three or more instruments written by 35 composers, ordered chronologically so that influences and developments can be discerned.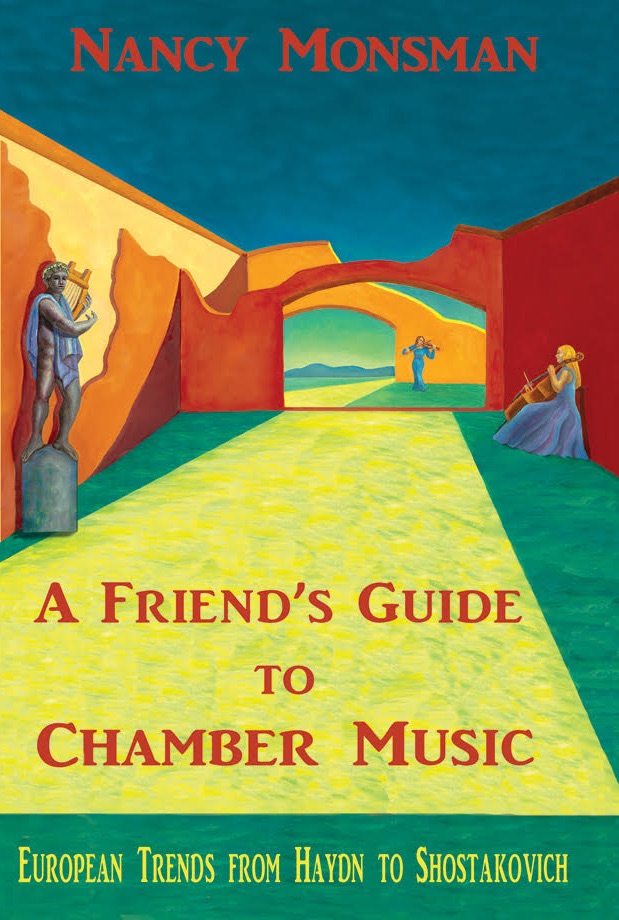 To purchase, please contact
Arizona Friends of Chamber Music
P.O. Box 40845, Tucson, Arizona 85717
Phone: 520-577-3769
email: office@arizonachambermusic.org
Copies may also be purchased from Southwest Strings, at swstrings.com or at their Tucson store.
"Thanks to Nancy's comprehensive knowledge and skillful writing, music lovers can now engage more deeply with chamber music, a bountiful art form filled with fascinating stories and richly rewarding experiences."

Wu Han
Pianist and Artistic Director: The Chamber Music Society of Lincoln Center;
Music©Menlo; Artist Led
"The much-anticipated annual ritual of poring over Nancy's eloquent and insightful program notes made my regular visits to perform for the Arizona Friends of Chamber Music a seasonal highlight. In this brilliant, exhaustive new work one finds a wealth of detailed information applicable to performer and listener alike, presented in such a lively and readable style."

Clive Greensmith
Cellist: Tokyo String Quartet (1999-2013)
Montrose Trio; Professor of Cello, Colburn School
"Cellist, painter extraordinaire, and musicologist Nancy Monsman has produced a much-needed, lucid and compelling volume dedicated to chamber music of the European tradition beginning with Haydn and progressing through to the two giants of the twentieth century, Bartok and Shostakovich. Based on her annotations for the Arizona Friends of Chamber Music, Nancy's balanced writing, neither too technical nor too simplistic, will give a wide audience much to consider. Above all, her love of this art form is always apparent and will no doubt inspire generations of listeners."

Peter Rejto
Artistic Director, Tucson Winter Chamber Music Festival
Emeritus Professor of Cello, Oberlin College Conservatory of Music
Nancy Monsman earned her B.A. in English literature and M.M. in cello performance from Northwestern University and her Doctor of Musical Arts degree from the University of Arizona. She has performed with the North Carolina Symphony and other professional ensembles. Since her early years she has been an avid chamber musician.